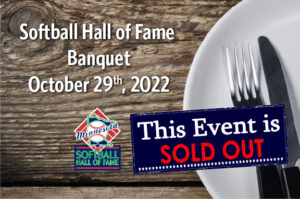 **THIS EVENT HAS SOLD OUT. IF YOU WISH TO BE PUT ON A WAITING LIST, CALL 651-451-3140 AND LEAVE A VOICE MESSAGE WITH YOUR NAME AND CONTACT INFO.**
The 32nd Minnesota Softball Hall Of Fame Banquet has been set for Saturday, October 29th at Grand Casino Hotel – Hinckley.
Social hour begins at 4 pm with dinner served at 5:30pm. Attendees will be on their own in terms of room reservations with two hotel options available.
Inductees will be voted on during August 2022 and results announced just after Labor Day. Over 235 softball enthusiasts were in attendance for the 2021 banquet held in Albert Lea.
Deadline for nominations is June 1, 2022, and nomination materials/forms can be found in the right–hand sidebar of the Minnesota Softball Hall of Fame page.