By Kent Stever, Ph. D
February 2016
Softball is a variant of baseball played with a larger ball on a smaller field. It was invented in 1887 in Chicago as an indoor game. It was at various times called indoor baseball, mush ball, playground, softbund ball, kitten ball, and, because it was also played by women, ladies' baseball. The name softball was given to the game in 1926.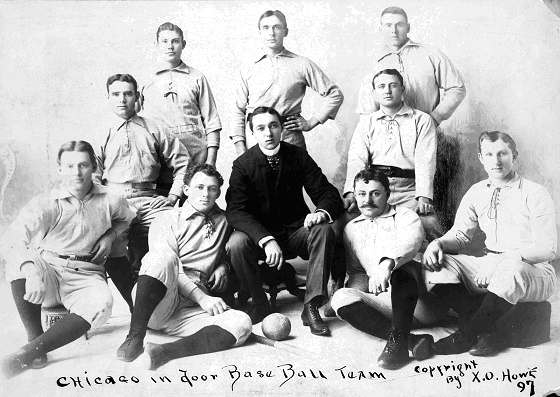 The earliest known softball game was played in Chicago on Thanksgiving Day 1887. It took place at the Farragut Boat Club at a gathering held to hear the outcome of the Yale University and Harvard University football game.  When the score was announced and bets were settled, a Yale alumnus threw a boxing glove at a Harvard supporter. The other person grabbed a stick and swung at it. George Hancock called out "Play ball!" and the game began, with the boxing glove tightened into a ball, a broom handle serving as a bat. The ball, being soft, was fielded barehanded. George Hancock is credited as the game's inventor for his development of ball and undersized bat.
The Farragut Club soon set rules for the game, which spread quickly to outsiders. Envisioned was a way for baseball players to maintain their skills during the winter – the sport being called "Indoor Baseball." Under the name of "Indoor-Outdoor," the game moved outside the next year, and the first rules were published in 1889. Let the fast pitch begin!
In 1895 Lewis Rober, Sr. of Minneapolis organized outdoor games as exercise for firefighters – the game being known as kitten ball (after the first team to play with the ball), lemon ball, or diamond ball. Rober's version of the game used a ball twelve inches in circumference, rather than the 16-inch ball used by the Farragut club. Rober may not have been familiar with the Farragut Club rules. Eventually the Minneapolis ball prevailed, although dimensions of the Minneapolis diamond were passed over in favor of the dimensions of Chicago. Fire Station No. 19 in Minneapolis, Rober's post from 1896 to 1906, was listed on the National Register of Historic Places in part for its association with the sport's development. Rober was named to the National Softball Hall of Fame in 1996 (one of only seven Minnesotans so named in all the years).
My father must have picked up a ball in Winona soon thereafter:
It is so interesting to discover that my "Pa" Otto, in his time as a junior high youth of German-Lutheran heritage in the early 1900s, was named one of the city's most outstanding athletes. On the east end playlot where 1,800 kids participated, the Republican-Herald newspaper story of the day reported that my Pa and our later family neighbor, Carl "Shorty" Lang, were the two most promising of all.
To my knowledge, Pa never played on a "kittenball" team. He was on the Honor Roll of 1918 as an eighth grader in his last year of formal schooling, however.   Many of his friends of the playlot and the east Howard Street area emerged as champions of the new sport.
Carl was pictured in a different uniform – as a member of the early "Boys Band" of the city. None of the soon-to-be early diamondball star players was tooting a horn. Carl was part of the YMCA Employed Boys Brotherhood in 1921. He was badly burned in an explosion/fire in 1926 while cleaning clothes with gasoline at the Winona Cleaning Works. His later work as a driver for the Springdale Dairy was less dangerous.
Before this article, I never knew that Pa and I shared the talk or walked the walk of baseball and kittenball. Probably finding other youthful activities (like work) in life, there is no mention of either Carl or Otto being on any of the Diamondball teams that emerged in Winona.
In 1922, a Winona league of sixteen teams was organized by leaders Rollie Tust, Bill Hargesheimer and Darby O'Brien. They were superb players who committed to the game for years to come. They were exceptional athletes, team leaders, inspirers to the masses – and gentlemen who modeled the fun of the game. They were workmen and tradesmen. They worked hard and played hard.
Save for two years in the early 1930s (Depression era), the teams operated and performed as Watkins Owls, Winona Heaters, O'Brien's Bub's Brewery, Koal Kids and other assorted teams. They drew out the men from Kohner's Taverns, the Watkins shops and an East End populous centered at the Winona Athletic Club. They configured across teams of taverns and coal and ice companies and bakeries to find the best players and combinations. When occasion called for balance of competition, teams traded players for unknown recompense.
They played in the 1930's and '40s and '50s and drew huge crowds at Athletic Park. They played in the daytime and under the lights. They were virtuosos of athletics, leading the city and region in diamondball, baseball, bowling and every other sport they touched.
Swede Gordon, local bar owner and sponsor took his team to Hibbing for the state tournament in September 1938 – one of many trips. Pitcher Darby O'Brien was "a veteran of at least a dozen state tournaments" with other future Hall of Famers clustered on the bus. These were hometown heroes who were in a dozen or more state tournaments and ultimately placed seven members in the Minnesota Softball Hall of Fame.
In a Winona Post article (July 2015), current Park and Recreation Director Maynard Johnson spoke of "a decline in participation over the years. Johnson explained that years ago (during his recent twenty-three year tenure) softball used to be the only thing in town, but now activities such as kayaking and Frisbee golf provide many options for recreational fun that were once not available all at one time." That article and a 1950s baseball friend's nudge caused this writer to remember, reflect and research the early records and old names of Winona's softball history.
Johnson may not have been acquainted with the characters of diamondball who began the sport in our fair city nearly 100 years ago. The "King of Swat," a local fisherman, the superintendent of presses for the Republican-Herald, a city auditor and many more were the superstars of Winona's summer "Diamondball." They were exceptional all-stars in everything from bowling to Golden Glove Boxing, YMCA citywide free throw contests and early Winona State football championships. They crossed all the lines of all the sports and brought a shine to the fans in the stands. They even won city handball championships – all while being fully employed builders of Winona. For a challenged populace of the Depression, of World War II (in which many served) and on into the "fabulous fifties," these were their stars.
A few to be recognized include:
Minnesota Softball Hall of Fame Inductees of Winona
Rollie Tust (Rawland W. Tust, born 1905) Infielder, Inducted 1982
The Arcadia (WI) Military Police reached across the border to sign a basketball "floor guard" from Winona in 1930. He had established himself as "a star Winona football and basketball player." It was also the year that he "dropkicked the two points-after-touchdown for the LaCrosse Bodegas (a supper club) to beat the college All-Stars of Oshkosh.
The Police got him in time to play against the Hopkins, MN team including coach Joe Hutton of Hamline, noted athlete from Carleton College. Joe went on to send his team players to the original Minneapolis Lakers professional basketball teams of the early 1950's.
Rollie was honored in 1939 with a newspaper headline and a "Rollie Tust Day" in his hometown. He was lauded as "one of the "most significant figures in diamondball history, being named to the Minnesota Softball Hall of Fame in 1982 (some sixty years later.) With Bill Hargesheimer and Darby O'Brien, Rollie had been responsible for bringing the game of "kittenball" to Winona in 1922. Organized into three leagues of sixteen teams, the American, National and Independent, they brought "diamondball" to the masses.
Rollie could do it all, in 1923 playing for the Wingolds (Flour) at third base. He moved to the Watkins Owls in 1926 to catch outstanding pitcher Mark Kolter. With "diamondball succumbing" in 1930, he re-emerged in 1932 for the Winona Heaters. With his friend and superstar Darby O'Brien, he went to the Owl Motors, also a Watkins team and then to Darby's Bub's Brewery Team in 1936.
Rollie was employed by the J.R. Watkins Co. and was transferred to Minneapolis, after spending his season with fellow Hall-of-Famer and pitcher Stan Knopick (1985 inductee.) Rollie was able to bring his "Mill City" team to Winona in 1939 for games and presentations, returning to town in 1940. He then led the Kohner Tavern Team as manager – with Darby, Bill, Edson Hazelton and other kittenball stars.
Continuing to expand his range to all sports, Rollie won the Winona City Championship in bowling in 1942 with a rolled 683!
Sidebar:
" Rollie Tust: Another career ends, Memories to catalog "
By Chris Allen, Staff Writer. Winona Sunday News – July 31, 1977
     He's a gentle, much-loved man who obviously found his perfect niche among the deeds, mortgages, titles, liens, documents and all manner of public records that surrounded him for 34 years. Today, let the records show, County Recorder Rollie Tust — born Rawland D. Tust, May 24, 1905, Winona, to Louis and Rose Tust, married to Winifred Tust in 1928, first elected to office in the 1940s, officially began his retirement. He announced the end of his reign in May, giving everyone plenty of notice that, after eight consecutive terms, his name wasn't going to appear on the 1978 ballot. He planned to leave office the end of June. He had a mind to go fishing and take a long-awaited vacation. "That's where I made my mistake," he said last week in the county recorder's office. Appointing a temporary successor proved more difficult than anyone had imagined. When July arrived his absence would have left the county's public records untended. Naturally, he couldn't let that happen. "Actually," he said, "I've never taken a full, paid vacation while in office. I'm a darn fool. "Now, don't quote me on that," he added quickly, his eyelids flexing behind rectangular, gold-frame glasses. Did he think someone would believe him? Others call such foolishness dedication – and praise it. Well, that's another thing Rollie doesn't want.

     "Now, whatever you write," he instructed, "don't pile it on too thick. Don't make it too (strong.) Just for the record, though, there were two things he thought might be appropriate to mention. "Not that 1 played nine years of football," he said, dismissing them with a chop of the hand, "but that at Winona State I was on two undefeated football teams in 1924 and 1925. In 1925 I was selected as all-conference quarterback. "And I've got the gold football to prove it." And he does. From a small box filled with medals, pins and ribbons emerges a tiny gold charm the shape of a football. On the back of it, beautifully engraved, are the words "Conference Champions R. Tust."
     It's hard to picture this white and gray haired head slipping into a helmet and butting other heads. Nowadays football players come in giant size, built like refrigerators. Rollie stands 5' 7" – and no one would call him Mr. World unless they were kidding him about a slight bulge around his equator. Yet in his day this man was feared. And in a close game he was worth more than his weight in gold footballs.
     Rollie Tust is "small but deceptive," says an old newspaper article, "and he knows how to pilot a team." Another article describes him as a "flashy runner and ground gainer." But it wasn't his light feet exactly that terrorized opponents. Nor was it his arm, though he could certainly throw a respectable pass. It was the toe.
     Rollie Tust was Winona's unrivaled master of the dropkick. "He was quite a dropkicker," recalled Fred Schwager, about his former teammate at Winona State. "One year he won three games for us. "Sometimes, if we were stuck near the goal, 30 or 40 yards out, he tried a dropkick — and he made them!"
     Schwager played tackle in those days and he had to chuckle over another recollection about his friend. As a runner, it seems, Rollie "had a habit of jumping up when he was about to be tackled." "One time," said Schwager, "Rollie jumped up and someone got him by the toes and knocked him 'a-doozy.' Afterwards, he wondered who won the game."
     Norman Earth, who played high school football against Rollie, remembers practicing the antique art of dropkicking with him on the old courthouse lawn, where a parking lot now stands.
     Rollie was Register of Deeds for Winona County, living at 660 East Wabasha Street (1946) and at 366 Zumbro (1957.) He died in 1996 and is buried at St. Mary's Cemetery, Winona.
Darby O'Brien, Pitcher, Inducted 1983
Darby "had the biggest smile" of the 20 pictured members of the "Hubs" softball team as they took off to the state tournament at Hibbing in September 1938. The "Hubs" came out of the Hub Café and Bar on West Fifth Street, where one could garner smoked carp and/or a freshly dressed raccoon from a local hunter/fisherman for a home treat – with a "Picnic" of beer to precede a delicious home dinner of "Coon and Beans."
They were headed for the Class AA Diamondball Tournament again. Tavernkeeper Lyle "Swede" Gordon was player, manager and sponsor. Darby was on his way to one of his "nearly a dozen" state tournaments. Surrounded by future State Hall of Famers Roy Lord in centerfield and Rollie Tust at second base, they were headed for glory. Pitchers Earl Kreuzer and Stan Knopick (also soon-to-be Hall of Famers) were ready to support Darby with their big bats and ultimate pitching skills.
Harold "Darby" was born in 1908 to Mr. and Mrs. Harry O'Brien. Father Harry worked for the street department and set many records of his own. In 1947 and 1951 he was acknowledged as Winona's best fisherman – having caught 100 walleyes, with the 99th and 100th weighing in at eight and nine pounds. He had also caught a ten-pound walleye in 1947, as his 43rd (by June!)
Darby joined the Wingolds in the early 1920's as relief pitcher to Bill Hargesheimer, with Rollie Tust at third base. He stayed until 1925 when he moved to the Merchants where he quickly won six games and was "expelled" for having "jumped" his Wingold contract. He led in every category of pitching until his "Farewell to Diamondball" in 1940.   His final game for the Winona All-Stars was against the Ebert's Tavern team of Milwaukee.
Along the way, Darby played in eight state tournaments – more than any other Minnesota player.   In 1927 as "youthful hurler" for Shaffers' Cleaners, he struck out fifteen, holding a player on third as he struck out the final three for a 0-0 tie. "Glorious last night, O'Brien as usual took matters into his own hands and finished up by striking out Lipinski and McDonald." He was supported by Earl Kreuzer at shortstop, a "classy little featherweight" in Golden Gloves boxing in 1933 – a hard-working welder and future Minnesota Hall of Fame pitcher.
In 1932, Darby ("Whataman") O'Brien pitched a no-hit, no-run game for the team's eighteenth consecutive victory. He was married to Alice in 1936, staying active as the city's leading bowler (average 197) in 1942. After WWII service Darby returned to Winona, taking a position with DX Services. He lived with his father Harry in 1957. It is yet to be discovered whether Darby took over the fisherman's crown of Winona.
Darby left a legacy to Winona softball in 1940, when he named his "All-Star Team":
Catcher(s) – Ray Hittner and John Blank
Pitcher- Paul Rademacher – " Paul taught me how to throw a slow pitch and showed me how to get control."
1st Base – John Rezab
2nd Base – Mike Pellowski
3rd Base – Ralph O'Brien and Rollie Tust
Shortstop – Ralph Kolter
FF- (Floating Fielder) – Harry Wieczorek
Left Field- Roy Lord
Center Field – Chester Wieczorek
Right Field – Fred Burmeister
Roy Lord, Outfielder, Inducted 1984

An amazing player, Roy was first a pitcher for the Newsmen of the Republican-Herald. He worked there as a pressman beginning in 1929, to retire in 1976 as Press Superintendent. It was first reported that he played baseball for the Hoppe Painters, playing against Minnieska in 1927. Roy had bruised three of his fingers and "may be back."
He was also a nearly full-time baseball player while playing softball. In one of his early baseball games with the Rosemen in 1931, the team lost to the Rochester Aces with Roy being named, "a brightly shining light among a lot of dim bulbs." He played alongside Rollie Tust and Steve Sadowski on the Winona Roses and played for Rollingstone, losing 9-8 to Lewiston. Still pitching in 1933, he set back "The Koal Kids" and struck out sixteen in another outing. It was the year he married Christine Pelowski, settling at 303 East Sanborn.
Simultaneous to his softball career, he led the Bi-State Baseball League (PNA, Roses, Galesville, Lewiston, Eau Claire, and Alma) with a .473 average. He was the PNA manager for a brief time in 1946.
Roy played the "tenth man" on the softball teams. He was a "floating fielder." Especially known and recognized as outstanding centerfielder, Roy took the place of Max Kulas at shortstop (another Hall of Famer) when Max was off playing for another team
Roy was replaced as FF by Cy Smith for the Merchants in 1939 (tenth man.) Darby was pitcher, with Roy often slamming homers. He led all D-ball batters with a .463 average in 1939, shifting to centerfield after his move from Bub's to Kohner's Taverns.
Leading all batters with a .427 average one season, writer Bob Shannon of "In A Sporting Way" recognized Roy as the "King of Swat:"
The vestiges of feudal days
Are not what we were taught,
For diamondball has just one Lord,
And crowned him King of Swat.
By 1941, Roy, Bill Hargesheimer and Max Molock had become umpires of the Diamondball League. With Christine working at Williams Book Store and the West End Confectionary before their move to Fountain City WI in the 1950s, Roy had to occupy himself with less strenuous sports. His bowling sample scores include a 247 single (1947), a 610 series (1948), 634 (1950), and 582 in 1952. His teammates of 1956 bowling included fellow athletic leaders of Winona – Gordy Addington (basketball) and Hugh Orphan (Winona Chiefs.) Roy's 165 average of 1942 couldn't catch Darby's 197, however.
Roy had also won with a partner in the November 1935 YMCA Class B Handball Tournament. What couldn't this guy do?
Stan Knopick, Pitcher, Inducted 1985

One with a long run in the diamondball league was Stan Knopick, erstwhile "protégé" of Darby, "Winona's veteran slowballer." He was "taught the principles of slow ball pitching" and for twenty years mowed them down. Stan started in Class B ball with the Lapitz Grocers in 1936 where he took the Condon Beverages team for fourteen strikeouts, gave up a limited five hits and gained a 10-0 finish. Stan, the "promising" pupil went on to meet the master in 1938 while pitching for the Watkins team in Class A. He had allowed only eleven hits and two runs in four previous games. Six hundred were expected for the "dual of master and pupil" under the lights at Athletic Park.
Stanley grew up with his brothers at 171 High Forest and became employed by the J.R. Watkins Co. He was an elevator operator in 1941. After service in WWII, Stanley lived nearby on Broadway and continued his employment as factory stores clerk with Watkins into the 1970s, when he celebrated with Florence and other employees a Hawaiian Night for " the Watkins Working Family" at St. Mary's Student Center – with exotic flowers, palm trees and a full course Hawaiian dinner. He was steadfast with his employment and his dedication to the Watkins team – staying with the single team from 1937 into the late 1950s. He was also a strong lifetime supporter of St. Stan's church and school, as well as Cotter High School.
He celebrated his status as "old-timer" in a game against the then-current Lang's Bar team of August 1962 with "Ex-Softball Aces" Rollie Tust, Earl Kreuzer, Roy Lord and others of note. Four hundred fans were expected. It was stated in the Republican-Herald that the "Main problem for the Old-Timers team was to find a catcher in shape to get down behind the plate – home plate, not dinner plate." My Dad's cousin, Harvey Stever, a strong softball old-timer himself, was selected as that catcher. He grew up on High Forest a couple of blocks from Stan and probably caught him as a teenager.
Stan was amazing. With his 1936 start, frequent 3-hit pitching in 1938, firing (slowly) against the visiting Milwaukee Ghosts ("one of the smartest and fastest traveling diamondball teams of the nation) of 1940, representing St. Stan's team against Minneapolis Holy Cross (1948), going 18-1 in 1949, leading the 9-man city champs of 1950 or in clinching the title for Watkins in 1956. Along the way, he also collected significant hits to aid his team to victory.
Lou Czarnowski, Fourth Ward Alderman promised to celebrate the successes of diamondball by bringing the Winona Municipal Band to the regional playoffs of 1940.
Max V. Kulas, Infielder, Inducted 1989
Max may be the man!
The 1930s of Winona was a fascinating time. There was so much going on with a nationwide Depression in process. Prohibition was on its way and hand-to-mouth living was a style for many. Little Max (Max V.) was raised nearly on the river – down near the Pepin Pickling Co. on the former site of the Empire Lumber Co. of the 1800s – a largest provider of wood to the region. At the corner of Front Street and Mankato Avenue, logs were floated down the river from Minnesota and Wisconsin and hauled in to shore near Max's front yard – to be sawn into huge piles of lumber that became the homes of those in western Minnesota and beyond.
Max was a third-generation Polish-American. Grandfather Michael Kulas came from Poland in 1868 to have six sons, including Max J. Michael worked for the city Street Department, having been in the Spanish-American War of 1898. Max V.'s father, Max J., was employed on or near the river at the Delta Fur Farm across the river. He was on trial in 1912 for taking several hides from the Hirschfield Soap Factory. He had been arrested at the Polish Stock Hall on Mankato Ave. and Broadway for nighttime gambling (1914) and was charged with assault of a trespasser of the Fur Farm property (1929.) "Brownie" Kulas was ever near the river, being listed as fisherman and trapper in the 1940s. Unfortunately, he didn't recognize all the rules of the outdoors, being charged with "shooting eight mallards out of season" in 1938.
Somehow son Max V. got off the river to find his way into softball and baseball in 1934. For the Wingolds in 1937 he was Diamondball shortstop, as he was for the Winona Roses baseball team. He was listed as a laborer living in his father's home in 1941. With considerable skill, he moved between the Winona PNA (Polish National Alliance) baseball team and various softball teams named after local bars. On the 1939 Merchants he led with homers and a "hit parade," while handling sixteen "floats" against the likes of Frank Pomeroy and Stan Knopick, who was "knocked out of the box." It was said that his Merchants had the "nickel jitters" early that year, but they recovered. Under the lights at Athletic Park Max led the All-Stars to a 17-1 win with his usual homers.
He also played in the beautiful trout stream valley of Whitewater River/Crystal Springs at Izaak Walton Field with Liberty Paper Boxes in 1939, beating Rochester 5-4. Passing by the springs the other day, I thought of Max.
By 1946, he was working at Peerless Chain, having served in the U.S. Army during WWII. Sgt. Kulas married Florence Chuchna that year, having "recovered quite nicely" from a 1945 auto accident where he was "broadsided." As player representative, he led the PNA baseball team to "stretch the string to five," with shortstop Max garnering three hits to support local team members Lambert Kowalewski, Max Molock, Gene Gabrych and Dick Cierzan – all hometown PNA leaders. They played before "1500 cash customers."
Max was maintenance superintendent at St. Mary's College in 1957, yet still active in softball as manager of a very fine Hamernik's Bar team – and President of the Winona Softball Association in 1964.
Earl Kreuzer, Pitcher, Inducted 1991

One of eleven kids growing up in a small "shotgun" house of High Forest Street, Earl (born in 1915) found his way into sports. About that time, my great-grandparents were living only a block away – closer to the river and raising their own tribe. I know the space well.
In 1931, Earl was shortstop who combined with Rollie Tust, Darby's brother Ralph, and Darby to win over LaCrosse 5-3 in the rain. By 1933, Earl, a "classy little featherweight" in Golden Gloves boxing and hard-working welder was on his way to becoming a Minnesota Hall of Fame pitcher. That same year, Earl was catcher for Roy Lord in a game.
In June 1934, he couldn't pitch due to a sore arm, but Earl made up for it with a no-hit, no-run game in August in Class B. He beat LaCrosse and Belvedere as a hurler for Trempealeau, led Safranek's of Class B ten-man to seventeen straight wins – and led the Class B Stars. The following season took him into Class A and a hurling duel with Darby. Darby won 3-1, but Earl gained two of the team's seven hits off the old master. In 1937 Earl umpired the game to see the Kohner's team pound Darby's Bub's team 12-2.
1938 was a very busy and productive year for twenty-three-year old Earl. He began by fighting his way into the semifinals of the Central and Northern Wisconsin Golden Gloves Tournament at Wisconsin Rapids to earn a bronze medal in the welterweight division. Earl "hurled his best game of Class A against Kohner's Taverns" with hit support from Roy Lord and Andy Kuklinski. In July, he took a rest from regular relief duties of the Winona All-Stars in a doubleheader against Owatonna of the Southern Minny League. Darby was there to start.
The "frosting on the cake" finish was at the state tournament with a team of seventeen from Hub's Café. Earl, Darby and Stan were the listed pitchers. Swede was manager and Earl Boller owned and drove the bus. In the ensuing seven months, Earl K. was traded off from Watkins to Willis Coals, a new team, to equalize the teams. By season's end, the Coals were challenging for the league lead. With hundreds in attendance for league games and playoffs, the $85.00 game sales often collected (fifteen cent admission?) paid for the lights – and the bus and player expenses to the state tournament.
Rules of 1938 were revised to include a 35-foot pitching distance, no "snap-ball" pitches and no individual player fees. Each team was required to pay a $7.50 fee.
With Max at shortstop and going two for three, Earl pitched the Merchants in 1939 to a win over Kohner's. He followed up that season with another no-hit, no-run game. The Republican-Herald reported that Earl "has the fastest ball in the Class A League this summer." (see picture.)
Facing Stan of R.D. Cone with twelve strikeouts in 1941, Earl of Kohner's showed a respectable presence with eight strikeouts and a finished 1-1 tie. He was part of the "soldiers" in 1942, pitching for Company L and winning 4-0 – "taking his seventh straight" to lead the league. Of course, Earl had two homers. It was a sad day that year on High Forest when his mother Louise passed away. Father Henry had died in 1926 at Earl's age eleven.
In 1943 he "whiffed twenty-one in a game for Donovans. After served duty time in WWII, he led Swede's by striking out seventeen, and "blanked Rochester at the Farmers Community Park." His Peerless Chain team had "a walk in the park" on Sunday afternoon to beat Stockton 7-6. In a "Sterling City Softball League Mound Duel" Earl faced Rick Bell and won 2-0. Stan joined Earl on the mound in 1948 for shared duties as the St. Stan's team faced a powerful Holy Cross team of Minneapolis. The Holy Cross team was made up of players of the championship Jerseys team of the Minneapolis circuit. With the season over in October, Earl at age 33 injured his hand and was admitted to the hospital on West 7th (Wabasha) Street.
Earl led off the season in May 1949 with a "four-bagger" in an 8-4 victory for Swede's All-Stars, with "Kreuzer, Knopick Twirl(ing) Triumphs" on the same afternoon.
Later, with another "stingy win," he threw a one-hitter. "The lone bingle off the Swede's Ace was Junior Odegaard's single." Playing in the 1953 City League finals for the Happy Hour, Earl gained his third straight playoff victory and the championship. He also beat "the Navy" of the Minneapolis Naval Air Station 7-3, striking out fourteen sailors.
He celebrated his status as "old-timer" in the game against the current Lang's Bar team of August 1962 with "Ex-Softball Aces" Rollie Tust, Earl Kreuzer, Stan Knopick, Roy Lord and others of note. Four hundred fans were expected. Harvey Stever, dad's cousin of High Forest Street, was a couple of blocks from Earl and probably caught Earl early, too. Stan and Earl each shined for two innings for the All-Stars.
Earl had first been an apprentice at Watkins. He moved on to being a welder for a trailer company, marrying Dorothy. They resided two blocks away from Earl's old High Forest home neighborhood at 517 Chatfield – where he yet lived in 1957 and beyond.
Richard Holdorf, Umpire, Inducted 2010
Dick missed the heyday of Winona's diamondball. Instead, he was off traveling the world with the US Navy, leaving his Eau Claire hometown behind. As catcher, shortstop and umpire for the Navy, he played away his twenty years of "off-time" on fields from Bermuda to Ethiopia. He retired to Winona in 1973 and served 38 years as umpire – for two nights a week of hot dogs and brats and fast pitch.
In 1974, Holdorf organized the Mississippi Valley Umpire's Association "that had as many as 24 umpires over the next 20 years" to serve Winona area colleges and high schools.
    "As an umpire who served Winona teams for 38 years, he's the guy who made the call for decades, eyes glued fast to the ball from behind home plate, his judgment was often the difference between the joy of victory and the bitter tears of defeat. Every close call comes with plenty of emotion, but in the end, he knows he's never missed a call in his heart, even if his eyes haven't always been perfect.
     And he's got plenty of good things to say about the young (and not so young) athletes in the area. "All in all, I think the ball players, they might get mad at you, but after the game, it's over," he said.
     Dick is well known for his excellent officiating talents and for the game of softball – his true love.
                                                                        Winona Post articles, 2010
Dick worked five national tournaments: Major Co-Rec, Men's A Modified, Men's Major Modified, Women's Class A Fast Pitch, and Women's Major Fast Pitch in the 70s, 80s, and early 90s, averaging 250-300 games per season. He has also been a high school and college certified official in other sports over the years – basketball, volleyball, baseball and football. In addition, he often kept the time clock for basketball games and swimming meets. Maynard Johnson of the Park and Recreation Department nominated Dick to the Hall of Fame.
We are pleased to have Dick represent Winona players and officials in the Minnesota Softball Hall of Fame.
A Journey Across the Fields
For this writer it has been a magical journey across the diamonds of Winona.
As a boy, I set foot regularly on the fields of Athletic Park ("the rec") and traveled with bike and glove to our East End Gabrych Park. As a ten-year old, I gained a mystique for local players not unlike that of followers of "Shoeless Joe" Jackson in the Field of Dreams. The thoughts and feelings of those times have been carried with me for years. To believe that such superstars of baseball and diamondball as those named above had all gone before me – with the Winona Clippers of the Northwestern League (1884), Winona Braves, Chiefs, Roses, PNA and Class A and B softball leagues is nearly unfathomable.
In the Winona fast pitch softball league of the early 1960s, I struck out easily and frequently. I didn't know that a softball could travel so quickly from pitcher to catcher. Whoosh! Whoosh! Whoosh! And I was done in by strikeout again. But I loved it all.
My intent with this research has been to recognize some few who made a difference – and to represent the everyman (vs. "Whataman") who played or watched the teams. There are only six Winona players named to the Minnesota Hall of Fame – recently joined by Umpire Richard Holdorf who is there to settle points of contention. Interesting to find that there are only two players from Minnesota named to the National ASA Hall of Fame. There is room yet for our heroes to move on.
As we drift past the fields of Athletic Park on West Fifth Street (as I did on my quiet, 1950s, post-game, early Sunday morning paper route taking me to the surrounding neighborhood of small homes of West Fourth and the nearby Archer-Daniels flax piles) one can still hear the smack of the ball as Roy clobbered another homer, the quiet spin of Darby's "slowball" as it approached – or see the smooth moves of Rollie's toss from third to first. Ah! The memories are golden.
As George Hancock said in 1887: "Play Ball!"
Sidebar: Eddie Feigner
     We saw it all in Winona. Some of the glorious stars of diamondball and baseball teams challenged Eddie Feigner and his team on their occasional, sold out visits. He first assembled his four-man team, known as "The King and His Court," in 1946 and took on all comers, first in the Pacific Northwest and then around the country.
     Eddie "The King" Feigner, pronounced FAY-ner, (March 25, 1925 – February 9, 2007) was an American softball player. He was born in Walla Walla, Washington as Myrle Vernon King.
     "The King and His Court" touring team played over ten thousand softball games in a hundred countries since the late 1940s start to achieve widespread fame similar to that of the Harlem Globetrotters.  In addition to Winona, Eddie played games in Arcadia and Blair, Wisconsin. From 1946 to 1963 he had 2700 victories in 3000 games – a stunning 90% win ratio, and an average 17 strikeouts per game.
Feigner's meticulous records claim 9,743 victories, 141,517 strikeouts, 930 no-hitters and 238 perfect games. The Washington Post described him as "the greatest softball pitcher who ever lived." He is a member of the Baseball Reliquary's "Shrine of the Eternals" of which approximately fifty who "altered the baseball world beyond statistics" are included. A chosen sample list includes Jackie Robinson, Jim Eisenreich (of Minnesota), Dizzy Dean, Curt Flood, Satchell Paige, Eddie Feigner and the like.
     At Gabrych Park in 1963, The King faced members of the Winona Chiefs and of the storied softball teams before 2300 fans who were "dazzled" by Feigner's blindfolded pitching, a 104 mph fastball and his irrefutable skills. On February 18, 1967, Feigner appeared in a celebrity charity softball game against many Major League players. In the game Feigner struck out Willie Mays, Willie McCovey, Brooks Robinson, Roberto Clemente, Maury Wills and the Minnesota Twins Harmon Killebrew – all in a row.
     "The King and His Court" was a four-man team: pitcher, catcher, first baseman, and shortstop. When asked why the team had four members, Feigner answered that they couldn't play with three: if all three got on base, there would be no one available to come to bat. He alternated players at catcher and shortstop but seemed to hold steady with Al Jackson at first base.
     Feigner retired from pitching after suffering a stroke in 2000 but continued to tour with his team, acting as emcee and telling stories while the team played. He died in February 2007 in Huntsville, Alabama where he is buried in the Memory Gardens Cemetery.
Kent Stever offers his remembrance and research as a gift to those who have gone before – and to those who wish to remember. He is a frequent contributor to the Winona Post, to regional magazines – and is the evolving author of four books on small town life and personal development. You are invited to contact him at his lakeside home in Lakeville at kostever35@gmail.com.
Sources: Winona Newspaper Project, Winona State University, Winona Historical Society, MN Amateur Softball Association, Winona Post, Winona City Directories: 1931, 1941, 1946, 1957, Google Chrome and Wikipedia
Pictures: E. Kreuzer and S. Knopick, Winona Newspaper Project. Eddie Feigner and Chicago Team, Wikipedia.