Pat "Bones" Barrett
Player, Bloomington/Crystal/Fridley
Pat "Bones" Barrett played slow pitch softball, starting at the age of 16. He played church softball for St. Williams Green, winning four state tournaments, and then won eight state championships in nine years while playing for Newell Concrete.
Pat was a key player on three straight Bloomington Fireman's Tournament Championship teams with Newell. He was also named the MVP of the 1986 state championships, and was named to the All World team in 1982 at church nationals. The Newell team finished second in nationals at Class A in 1993, and also took fifth place three times in Pat's career.
Pat was always a threat at the plate; his speed made him a threat to turn a single into a double when leading off, and his power would lead to driving in runners out of the cleanup spot. He batted over .600 most seasons of his career, and had an on-base percentage around .700.
In addition to his command at the plate, Pat was also versatile playing defense. He was most well-known as a pitcher, but would also play every outfield position.
In total, Pat played on 12 state championship teams, as well as four teams which finished fifth or better at Nationals. With his selection as an MVP at State, All World at Nationals, and a plethora of weekend tournament wins along the way, Pat continued to play softball at the highest levels in Fridley, Crystal and Bloomington for the entirety of his career.
According to nominator Tom Newell, "Pat will be remembered as someone who respected the game and his opponents, and always gave his best to do whatever it took for his team to be successful." Tom also recalled a time early one season where the Newell team faced a tough matchup against a fierce rival. Tom told Pat he was worried, believing the other team had many more great players than they did. Pat replied, "There's a difference between great players and winners, and we've got winners!" The team went on to win that game, and Tom says nothing in softball has stuck with him more than what Pat said that day.
Wayne Dahl
Player, Dawson Area
Wayne Dahl's 31 year fastpitch career began back in 1972. Though he wasn't a pitcher when his career began, he would quickly develop into a fierce pitcher and power hitter for Cerro Gerdo out of Dawson, MN, playing alongside another of tonight's inductees, Jim Prestholdt. Wayne was the main pitcher for Cerro Gordo from 1987-2002. He would win more than 40 games in a season 10 times during that stretch, and won more than 500 games in his career. Wayne's main pitch was a drop ball, but he would also mix in a change up to keep opposing hitters guessing, and often leaving them scratching their heads on their way back to the dugout.
The Cerro Gordo team won many of the local weekend tournaments in Western Minnesota with Wayne leading the way on the mound and at the plate. Wayne was regularly named to All-Tournament teams and was awarded countless tournament MVP's. They regularly competed against the top Class A and Class B teams across Western Minnesota, even traveling into Fargo and Sioux Falls, and were always a tough team to beat.
Wayne's pitching led Cerro Gordo to three state championships, one regional runner up, and four appearances in the ASA National Championships. His teammates described Wayne as a "bulldog" and a "workhorse." One of the best examples of Wayne's dominance and tenacity on the mound came at an association tournament in Sioux Falls in 1990. The Cerro Gordo team lost their first game of the tournament by a score of 2-1, but Wayne was quick to rally the troops. The team won 7 games to battle back through the loss bracket and compete in the championship game before a heartbreaking 2-1 loss to Ruthton in the final, late into Sunday night. Throughout those games, Wayne pitched every inning, and without missing a beat was back to pitch in league ball on Tuesday.
Scott Ensrud
Manager/Sponsor/Player, Bloomington/Burnsville/Apple Valley
Few participants have been involved in more aspects of the game than Scott Ensrud. From his boyhood home at 90th and Portland in Bloomington, he was a regular visitor to the Valleyview Fields and was hooked on the sport at an early age.
Upon his graduation from Bloomington Kennedy High School in 1976, Scott began pitching for the High Boys Hot Rod Shop in 1977. He formed his own team, sponsored by Mobil, just a year later and competed in Class B from 1978 to 1983, compiling an impressive 79-23 record.
Through the years, men's teams Scott played on, managed, or sponsored won more than 16 league championships, including High Boys Hot Rod Shop, Bloomington Mobil, Twin City Sport Print, Scotty's, Dakota Screen Print, Ens Convertibles, and Cheap, Fast and Easy Tees.
In the early years, Scott's teams became the "farm system" for many upper division teams, and Scott proudly sent many players to Open and Class A teams through the years. His teams competed in the 1994 and 1997 ASA Class B Nationals, when teams had to actually qualify to participate.
Ensrud always put an emphasis on league play and formulating teams which consisted of "Team Players" who enjoyed playing together. Tournament play, like the Fireman's in Bloomington were always looked upon as a bonus and a time to have fun and create memories.
Fellow Hall of Famer and longtime Fireman's tournament director Jeff Barnes said "Scott has always been one of the biggest softball enthusiasts in the area. He has been a positive force for softball in the Bloomington community as a player, manager/coach, and sponsor."
According to wife Stacey: "Bloomington Softball players have Scott to thank for the doubleheader leagues that exist today. He lobbied league director and fellow Hall of Famer David Klingerman on more than one occasion, informing him that doubleheader leagues were the way of the future."
Scott's personal playing accomplishments include tossing a perfect game and two no-hitters in slow pitch, and posting a lifetime batting average of .630. Scott was probably best known as a player for his "goalie" style of defense up the middle. Being a former youth goalie, he always wore numerous shin and ankle pads, and was famous for his "kick saves" and "glove saves" on grounders up the middle.
Slow pitch wasn't the only softball Scott played. He also played for seven years on his father-in-law's men's fastpitch team. His skills were on full display there, playing third base and regularly batting cleanup over those years.
After coaching women's teams in Minneapolis in the early '80's and starting another team in the mid-80's for a couple of years, Scott (and his wife, Stacey) decided to put together a competitive women's team. It turned out to be a real passion for Scott, who managed the team from 1993-2015. The early team played in the Bloomington Open League to experience upper level competition. During that span, they were Minneapolis Metro Champions three times, won leagues in Apple Valley, Bloomington, twelve straight league championships in the Burnsville Open League, a USSSA State Championship, two ASA National Championships, and competed at Worlds. Scott's teams also won more than 40 weekend tournaments, including three Fireman's Championships. His teams were always regarded highly for their sportsmanship and high-caliber play.
Being an ambassador and sponsor is a huge part of Scott's legacy, personally spending tens of thousands of dollars on league entry fees, uniforms, and tournament costs over the years. Since Scott owns a screen print shop, his teams have always been considered among the best outfitted. In the '90's, Let's Play Softball ranked his teams as being among the five best uniformed in Minnesota. He invented a removable legging softball pant called "Ens Convertables" in the 1990's, and has sold those pants to many teams in several states.
Scott's enthusiasm and passion for the game says it all. For Scott, softball has always been about loyalty and friendships.
---
Michael Gibeau
Organizer/Promoter/Manager, Clearbrook
When it comes to Softball in Northern Minnesota, both men's and women's, few have contributed as much as Mike Gibeau. Through the years, Mike promoted, planned, and ran many softball events throughout the region.
Mike was the driving force behind the planning, building, managing and expanding of Kloster Park, one of the premiere softball facilities in Northern Minnesota. Through the years, the facility was expanded to include five softball fields, along with concessions and storage facilities.
In 1985, Mike founded and directed the Clearbrook Summerfest Men's and Women's Softball Tournaments. He directed the tournaments from 1985-2013, and for many years it was the largest invitational tournament in Northern Minnesota.
Through Mike's efforts, Kloster Park gained a reputation as an excellent facility for all ages. Between the Summerfest tournament, league play, and summer recreation events, the park brings several thousand visitors to Clearbrook each summer, including more than 500 participants in the summer rec program. In addition to softball and baseball, Kloster Park has hosted picnics, reunions, the Relay for Life, and several fishing contests, which have all contributed many dollars to the local economy. The park has also provided summer jobs for many local youth.
In 1983, Mike founded and managed the Clearbrook Men's Softball League, which is still running to this day. At its peak, the league had 32 men's teams and 16 women's teams. Mike also managed the Clearbrook Merchants women's softball team for more than a decade. The Merchants won the state championship in 1980, and made numerous state tournament appearances.
Kloster Park was just one example of Mike's dedication to the Clearbrook Community. Early in his life, Mike made the decision to be active in city government, beginning a long tenure on the Clearbrook City Council in 1975. He was elected mayor in 2003, and continued in the role until his death in 2014. As a civic leader, Mike supported or initiated almost every Clearbrook Community project in his 40 years of civil service, including the founding of the community pool, city beautification projects such as Christmas lights and flowers, and the establishment of the Clearbrook Community Center. Mike also worked at the local supermarket, Granley's, for more than 40 years. His impact on, and devotion to, his beloved hometown of Clearbrook was evident by the more than 500 friends who attended his funeral in 2014.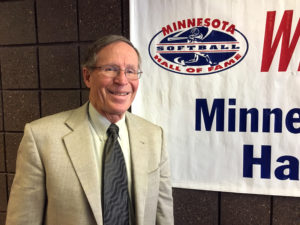 Bob "Doc" Hartshorn
Player/Pioneer, St. Paul/Minnetonka
Bob "Doc" Hartshorn's involvement in softball is nearly split down the middle between player and administrator, with 15 years as a senior softball player and 12 years as the Commissioner of the West Metro Senior Softball program. Yet while those are his official credentials, Doc has been organizing softball nearly his entire life.
Doc would regularly pull his friends and neighbors together to organize teams throughout his school-age years. While at the University of Minnesota, Doc organized his medical school fraternity team in intramural play, and led his team to the championship game during his last year in school.
During Doc's medical practice at Ridgeview Medical Center in Waconia, he formed a hospital team to compete in the Prairie League; a team which would play together for almost 20 years before folding in the late 1990's. Doc fondly recalled being a "popular opponent" within the Prairie League, as the "kids" loved to see if they could put it to the docs.
Around the same time, Doc helped form the Minnetonka Lutheran Men's team in the Excelsior/Shoreview area, and the team is still playing together 26 years later. The Minnetonka Lutheran team has made several trips to the Men's Church Class B tournament over the years as well.
Since retiring from medical practice, Doc has been heavily involved in Senior Softball. He started as a player in 2003, and in just two years time, he was asked to run the league. Under Doc's guidance and leadership, the league has doubled in size, with more than 200 players competing in the league, 22 of whom are over the age of 80! The Senior Softball League plays softball all year long; when the snow and cold force them inside, the players move into the "Stardome" in Richfield.
As a player, Doc has played at the 55AA and AAA levels, 60AAA and Major levels, 65 Major and Major Plus levels, and not the 70 Major and Major Plus levels. Most notably, in 2008 Doc won the SPA National Championship, where Doc was named National Manager of the Year. Doc's team also won the 2013 National Championship for the 65 Major Class in Las Vegas. Doc pitched all 11 games and was named the Tournament MVP. Most recently, Doc won the 2016 National Championship, that time in the 70-Major class.
Earlier this year, Doc was inducted into the Minnesota Senior Sports Association Hall of Fame. Doc says "Senior Softball has been a godsend for me, both physically and emotionally in my retirement. My leaguemates and I are among the healthiest men alive in our age groups because of the physical activity and mental awareness required and associated with playing softball. At West Metro Senior Softball, camaraderie is number one, and the softball is an added bonus."
Gary "Meatball" Holtz
Player, Hutchinson
Gary "Meatball" Holtz had a dream of being a ballplayer. With no town baseball team for him to join, Gary did the next closest thing. He picked up a bat and a glove and learned to play softball. What followed was a 55 year career to remember.
Now how did he come to earn the nickname "Meatball?" Well, according to Gary, his brother gave him the nickname in the early 1970's. In the first game of the season, Gary gave up a home run. His team went to extra innings, and in the 10th inning, Gary gave up another home run, prompting Gary's brother, Don, to turn to him and say "You're nothing but a meatball! Quit throwing 'em!" The guys on the other team heard, and a nickname was born. Gary hated the nickname for years, but after a while, he though "What the heck, might as well live with it," and the nickname has stayed with him ever since.
"Meatball" turned things around in a hurry, and quickly developed into a hard-throwing force on the mound. While primarily playing as a pitcher, Gary would compete in 40 state tournaments and 25 national tournaments with teams from the Litchfield and Hutchinson Areas. He was a key player for three state tournament champions, and also helped his team win two national qualifiers. In the 1988 national tournament, Gary pitched a no-hitter, which helped him earn second-team All-American honors. During the 1976 state tournament, Gary pitched 11 of the 12 games over the course of the weekend, throwing somewhere around 100 pitches every game, leading his Sterner's team to a second place finish.
When Gary was toeing the rubber, it was tough for anyone, teammate or opponent, to get him off the mound. At one point, Don, who managed the team at the time, went out to the mound with the intention of removing Gary from the game. Gary looked at Don and asked "What are you doing out here?" Don replied, "Oh, nothing. Just seeing how it's going," then turned around and walked right back to the dugout.
After spending nearly every summer weekend at the ballpark, Gary finally retired from playing softball in 2016. With hundreds of wins, thousands of strikeouts, and tons of memories along the way, it's safe to say Gary has left a lasting impression on teammates and opponents alike.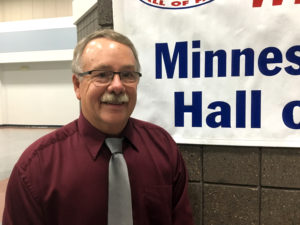 Charlie Johnson
Umpire/UIC, Detroit Lakes/Hitterdal
Charlie Johnson's career in softball is extremely long and incredibly decorated. He has served at high levels in many different, and perhaps all, disciplines of softball umpiring.
On the field, he has umpired for Men's, Women's. Girl's and Boys, in fastpitch, slow pitch, and modified pitch, all at the local, state and national championship levels, working for decades with a supreme level of professionalism and competence. Specifically, Charlie has officiated in at least 16 ASA Nationals and 11 ISC World Championship events. Additionally, Charlie rose to the top in college and high school officiating, working several NCAA Division II and III tournaments, and at least 27 State High School softball and baseball tournaments. In 1989, Charlie was selected for the National Indicator Fraternity, and in 2001 was recognized for attaining the Gold Level of Excellence as a member of the ASA Umpire Medals program. He is highly regarded as one of the premier clinicians in the state and in the region, and is revered as one of the best at explaining and demonstrating the mechanics of umpiring and the interpretation of rules. Charlie has also served as a clinician for a number of state umpire schools, working with fellow Hall of Famer Les Novak.
Former ASA-MSF Player Rep David Long said, "I was able to personally witness the difference Charlie made as a mentor to younger or less-experienced umpires. I can attest to the respect he garnered from umpires in the district. He took the time to observe what and how the umpires were doing, and offered advice and suggestions in a non-intimidating way that was easy to understand and adopt."
Fellow Hall of Famer Ken Pearson concurred, saying "Charlie has many great leadership skills and traits. He strives to do his very best, and inspires others to do the same. He demonstrates great character and integrity, and promotes mutual respect and civility. Charlie motivates ordinary people to do things extraordinarily well."
Besides his officiating talents and people skills, State Commissioner Perry Coonce commented, "The thing that stood out with Charlie for me was that he always kept the game in perspective, and had the ability to disarm a tense situation with his calm demeanor and sense of humor."
With this resume, according to former District VII Commissioner Pat Hanlon, it is not surprising that Charlie is also recognized as an outstanding school teacher, and was a dedicated volunteer fireman and Fire Chief for the Hitterdal Volunteer Fire Department for many years.
In addition to his service to Minnesota as an umpire, Charlie also merits recognition for his work as a softball volunteer and promoter for assisting and providing advice and moral support to local leagues, team managers, tournament directors and players. He has helped promote the game within circles of players, families, parents and administrators. Charlie's sound advice and wisdom has been crucial to the preparations for, and execution of, many softball events statewide; donating time and services above and beyond expectations.
Howard D. Kazeck
Organizer/Sponsor/Manager/Player, Little Falls Area
Howard Kazeck hails from the small town of Randall, MN, but the magnitude of his impact on softball in the Little Falls area as a player, promoter, and manager for more than 50 years has been tremendous.
Howard began his career playing Kitten Ball in 1954 as a country school player and played into high school. However, there were no slow pitch leagues at the time, so Howard played baseball and fast pitch in the Little Falls league, starting in 10th Grade. As slow pitch gained popularity, Howard and many of his friends began to play in multiple leagues, never quite able to get their fill of playing the game they loved. They could always be found competing in weekend, district, and state tournaments.
As the game continued to grow, both for fast and slow pitch, Howard saw the need to step into an administrative role. Howard helped organize many tournaments throughout the Little Falls area. Most notably Howard had organized the Randall Labor Day Softball Tournament for years, both managing the tournament, and stepping in to umpire when he needed to. According to former Little Falls League Director and fellow Hall of Famer Bob Sczblewski, "Howard helped the Little Falls League in any way he could by organizing and umpiring. He was ont of the main reasons softball grew rapidly in our area. His love for promoting softball for more than 50 years was unequalled." Howard's contributions to the game spread to working with the local girls teams, Little Falls League officials (where he was the Vice President for 20 years), and he was quick to lend a hand to anyone seeking to establish a team, league, or tournament.
Former teammate Dean Bigalke described Howard's love affair with softball this way: "Howard's biggest contribution to the game of softball came as a leader. Howard helped organize countless tournaments in his hometown of Randall. Proceeds from these tournaments were used to support other teams as well as make the game more accessible to younger players.
According to Minnesota State Softball Commissioner Perry Coonce, "Howard's softball resume included more endorsement letters than any previous nomination to the Hall. Having known Howard closely through his support of "Softball Night and the Dome" and the Special Olympics, this was not surprising. He's made a positive impact on many lives through the sport of softball."
Howard's influence on the Randall Community spreads beyond the softball field. He served his city as Mayor, was President of his church, and has been a 33 year member of the Randall Volunteer Fire Department. He is also a retired member of the military, serving in excess of 42 continuous years. Howard retired in 2014 at the age of 73, after being invested in the game of softball for more than 50 years.
---
Dick McNally
Player/Coach/Organizer, St. Charles/Ridgeway
Dick McNally started his ball career as a kid growing up on the family farm. Between daily chores, Dick would spend his time throwing balls against the side of the barn. While he wasn't a pitcher early on in his softball career, he would soon develop into one of the most dominant pitchers to play in Minnesota. Dick played on local fast pitch and slow pitch teams throughout Houston County in his teenage years, and was drafted as an outfielder to play in Major League Softball, an 8-team league of Canada and the New England area. Dick was the youngest player drafted out of 162 players. He played for one year professionally, then returned to Minnesota where he would play for the next 45 years.
Dick started his Minnesota career for Mike's Red Owl of St. Charles as a pitcher and power hitter. Mike's Red Owl would go on to win the league championship each year throughout the 1980's, were District Champions in 1985 and 1990, and finished in the top three teams at state in 1986 and 1988. They were also finalists in the Northern Regionals in 1988. When the Red Owl team disbanded in 1992, Dick started a new team based out of Ridgeway, the Gamblers, who won the Class C State Championship that year, with Dick earning an MVP award and a ticket to nationals in North Dakota. The Gamblers would again win C state in 2000, and the team finished 7th at nationals in Aurora, CO. Dick was also named to the All-American team and was also named state MVP. Dick would retire in 2007, pitching one last season for the Gamblers, where he led the team to a Class D State Championship and another MVP award.
With a true passion for the game, Dick would simultaneously play fast pitch and slow pitch softball for several years. He would regularly play more than 100 games in a season, and would at times play two separate tournaments in the same weekend. It was not uncommon for Dick to pitch anywhere from four to seven complete games in one day while in a tournament. While dominating on the mound, Dick was also a great hitter, with a career batting average of over .300 in fastpitch, and an on base percentage above .400.
Dick's influence was felt beyond the softball diamond, starting the Little League program in Ridgeway in 1985. He coached all the teams, umpired all the games, and managed the league, too. In 1991, he developed a little league baseball and softball complex, complete with a lighted field, batting cage, and playground. "Mac's Field of Dreams," as the complex would come to be known, is still the site of Ridgeway Little League ball, where Dick can still be found helping local high school kids learn the fundamentals of pitching fastpitch softball.
James R. Milanovich
Player/Manager, White Bear Lake/Roseville/Gilbert
Jim Milanovich grew up on the Iron Range in Gilbert, MN. He had an uncle playing on the Gilbert town team in fast pitch softball and baseball. Jim volunteered at age 7 to be a batboy for his uncle's team, and in doing so gained a greater understanding of, and love for the game. He started playing town team baseball and softball at age 15, and from age 18 to 22, Jim played fastpitch softball in the Gilbert area league.
When Jim was 25, he moved to White Bear Lake to begin his teaching career. Jim was quick to get involved with the White Bear Lake and Mahtomedi Leagues, where he played until age 40. At age 50, Jim began playing with the Roseville League, and has continued participation in the Roseville League to this day. Jim managed teams in the League for 10 years, and also managed tournament teams for two years. Over the years, Jim played in numerous state tournaments, too many to count, as well as national tournament play out of state. Jim plays third base, and has consistently hit at a high level, continuing to bat between .600 and .700 to this day.
Now, at age 76, Jim continues to play the game with integrity and sportsmanship, win or lose. His exceptional contributions to the growth and success of softball has been demonstrated not only by playing and understanding the game from an early age, but by promoting and teaching the fundamentals of softball to children and students of all ages. Jim received a teaching degree from Winona State College, and taught in the White Bear Lake School District, then worked as an educator for North St. Paul Schools until his retirement in 1997. As an educator, he continued the tradition of instilling in students a love and respect for the all-American games of softball and baseball.
You might say Jim's playing career took a back seat to his high school teaching and coaching jobs for many years. Since then, Jim has been on four first place national championship teams, winning each of the championship games by at least five runs. In 2002, his team won the SPA National Championship in Plano, TX, while competing in the age 60 division with the Minnesota Mavericks. Jim was selected to the 65+ SPA All Star Team in 2010 in Dalton, GA, and was the MVP in 2013. In 2012, his team won first place in the LVSSUSA 70+ AAA World Championship with the MN Masters. In September 2015, the Masters took third in the 70+ AAA World Championship in Las Vegas. In September 2016, his team was undefeated in the Senior Softball World 75+ AAA Championship, and in November of the same year, Jim was once again a champion, winning the 75+ Winter World Championship in Phoenix, AZ. Jim embodies the qualities of ethical standards, knowledge of the game, good sportsmanship, and playing softball to the best of his ability at a high level of performance with grace and dignity.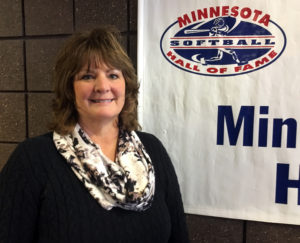 Joan (Schroer) Montague
Player, Coon Rapids
Joan Montague was one of the preeminent softball players in Coon Rapids, playing for more than 35 years. Joan was a three-sport athlete in high school, lettering in volleyball, basketball and softball. While playing for the Coon Rapids High School fastpitch team, where Joan was named the captain, she led her softball team to the High School State Class A Championship, and only saw continued success from there.
Joan's tournament accolades include winning nine state tournament championships, and competing in another six state tournaments. Joan was also a part of four national championship teams; two for women's ball and two for co-rec. In a season to remember, Joan's team, Minnesota Micro-Lights went "3 for 3 in '83," winning the 16" state tournament, 12" state tournament, and the Class A State Tournament, en route to a staggering 80-0 record for the year.
Nominator Joe Murphy said of Joan, "You couldn't ask for a more dedicated person to have on your team. Joan is a very humble person. She's always got a positive attitude and is quick to encourage other people on the team, and will do what is best for the team, even if it's not best for herself. Joan was humble in victory and gracious in rare defeat. She's one of the best athletes and people that I've been around."
Nominator Bob Montague echoed the sentiment, saying, "Joan is an extraordinary athlete. She was an outstanding batter and an excellent defensive third baseman. Joan oftentimes had a better arm than most of the men she played with in co-ed ball. When other teams would try to target her and hit one down the third base line, her great defense would shut them down. She was someone that everyone wanted to have on their team."
The last part of Bob's quote is especially true, as Joan spent time playing for Metro Medals, Sports Image, Coon Rapids Merchants, Coachlite Inn, and Video Box Office. Ed Ghostley of the legendary Anoka Spooks also tried to recruit Joan, however, she remained loyal to playing with her family and friends, much to the chagrin of her opponents. Today, Joan is still active in softball with her family co-ed team, the Crankers.
Ron Moog
Umpire/UIC, St. Cloud
Ron Moog began a 15 year career as a fastpitch and slow pitch player in St. Cloud as a 16 year old. He played fastpitch, and then slowpitch in the St. Cloud Park and Recreation Leagues from 1955-1969. This resulted in an avid interest in how the game was played, and how it should be played. Ron then began a 42 year adventure into umpiring in 1969, working all three disciplines of the game. He grew in rules knowledge and quickly became the District V Umpire in Chief and Rules interpreter in 1977. In doing so, Ron became the main source of softball rules interpretation in Central Minnesota for 24 years. He also served as a High School League Rules Clinician for many years, traveling extensively with Chuck Clausen as a baseball and softball rules guru to keep much of Minnesota educated on the finer points of the games.
Ron was a founding member of the Minnesota Sports Federation in 1982, and played an integral role in helping the organization establish itself. Ron spent many an hour recruiting new officials, explaining and demonstrating the basics. He also spent countless hours developing "tricks of the trade" with the veterans he started with. Besides countless district and state tournament games, Ron was honored to work four ASA National Tournaments: 1984 Men's, 1985 Women's, 1989 Over-35 Men's Slow Pitch, and the 1990 Men's Industrial Slow Pitch.
Minnesota State Softball Commissioner Perry Coonce said, "Ron took great pride in knowing the rulebook backward and forward, and spoke about the rules any chance he had." Former District V Commissioner and fellow Hall of Famer Don Bauer was Ron's sounding board on many trips to umpire clinics in District V. Ron's sincerity, devotion, and attentiveness has produced many stories and memories; some fond, others not so much. He can recant tales from more than 60 years of softball history – just ask him! The developing of umpiring skills in Central Minnesota over the years can be traced directly to the love and dedication Ron gave to the game.
---
Walt "Nelly" Nelson
Player, Hastings/St. Paul
Walt Nelson moved from Ohio to Hastings, MN in 1961, and quickly became part of the prominent Loesch's Bar team from Hastings, along with fellow inductee Tom "Weed" Niederkorn. Walt was the hard-throwing, right-handed ace of the Loesch's pitching staff, and would win back-to-back State Championships for Loesch's in 1964 and '65. Walt's drop ball was known to perplex many an opposing batter, and made him one of the most feared pitchers in Minnesota throughout the 1950's and '60's. His pitching statistics from Ohio are not available, but it is estimated that Walt won more than 300 games while pitching in Minnesota.
Walt was selected to three state All-Tournament teams, and was awarded the MVP Trophy for his performance at the 1965 state tournament after pitching in seven games, allowing just three runs in the final two games.
Walt was just as impressive in the 1964 state tournament. He fired a four-hitter over eight innings in defeating defending state champion Cloquet, 2-0 for the Class A title, and in the semifinals, Walt held Grand Rapids to one hit in an 8-0 victory.
Loesch's catcher, Gene Hageman had high praise for Walt, saying: "Walt had grit. No one was going to beat him. I would set the glove and he would hit it… In some tournaments, we played up to seven games and Walt would pitch most of them. He could throw all day."
Fellow inductee and teammate Tom "Weed" Niederkorn said of Walt: "He was a character, and when he said something, you listened. When I caught him, I didn't call pitches. He would scratch his nose for the rise ball and touch his ear for the drop. I remember at the State Tournament in Austin. It was hotter than hell. We played two day games in the heat and one night game, and Walt [pitched] them all. He was a competitor and he could throw the ball by most hitters."
Sadly, Walt passed away in 2003 at the age of 71.
Tom "Weed" Niederkorn
Player, Hastings
From Day One, Tom "Weed" Niederkorn was a force to be reckoned with. With his jack-rabbit speed and hard-nosed attitude, Niederkorn was a standout athlete at Hastings High School, and was regularly named to All-Conference teams in baseball, football and basketball. After deciding college football at Mankato State wasn't the right fit for him, Tom returned to Hastings and found the right fit on the softball field. Tom ranged between catching, pitching, and playing second base, but truly stood out while patrolling center field.
Playing for the Loesch's Bar team in the Hastings City League, Tom, along with fellow inductee Walt Nelson, won back-to-back Class A State Championships in 1964 and 1965; the team was also a State Runner-Up in 1962 and 1966. Tom also was named to the State All Tournament Team five times. He would then play for the Whitaker Buick team, who would play in three ASA National tournaments, finishing second in 1971 and third in 1972. Additionally, in 1965, Loesch's Bar, a Class A team, beat a Class AA team to win the State Championship, capping off the season with a 41-9 record.
Defensively, Tom was a rangy centerfielder. His speed let him chase down a long fly ball into the gap, or hustle to make a shoestring catch. That, of course was when he wasn't baffling opposing hitters at the plate, or turning a clutch double play at second base.
At the plate, Tom was a "triple-threat," with the ability to drive a ball over the fence, hit a screaming line-drive into the gap, or lay down a clutch bunt to get on base or advance a runner. One of Tom's teammates, Gene Hageman, recalled: "Tom would hit a single to right field, and he would go halfway to second and stop. The outfielder would throw behind him and Tom would waltz into second." In a truly memorable season with the Viking Bar team, Tom had an astounding .458 batting average, leading Viking Bar to a Class A State Title as well. Tom hung up the cleats in 1974 after a 20 year career.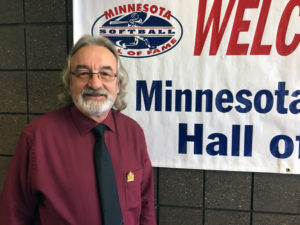 Jack Norman
Player/Manager/Umpire/Administrator, Mankato Area
Jack Norman epitomizes the dedication of a softball enthusiast worthy of being enshrined into the Minnesota Softball Hall of Fame. His involvement in every facet of the game reflects his desire to give back and help many others enjoy the great game of softball. His work behind the scenes often went unnoticed, but tonight, we want to celebrate his accomplishments and contributions.
Jack played fast pitch, mainly as a catcher, for 42 years across several communities in Southern Minnesota, attaining a career batting average of over .300. He also acted as a coach and team manager for 16 of those years. When Jack wasn't making plays on the diamond, he was calling the game as a fast pitch umpire, which he also did for 16 years.
In postseason action, Jack played or coached in 37 straight Minnesota state tournaments, eight ASA National Tournaments, seven NAFA National tournaments, and three ISC World Tournaments. In 1992, Jack was named second team All-American catcher, posting a .538 batting average at the tournament with his team finishing ninth. He also helped win the 1999 Minnesota State ISC Championship. Jack coached his ASA 23-and-under men's fastpitch team to National Championships in 2004, 2005 and 2007, and under his direction the team also won the 2005 NAFA National Championship.
On the administrative side, Jack was President of the Key City Fast Pitch League in Mankato for eight years. He served the Minnesota Sports Federation as a fast pitch committee member for 13 years, acting as chair for most of those years. If that weren't enough, Jack also was a host and tournament director for seven ASA National Tournaments and three NAFA tournaments.
Jack said he feels blessed to have met so many great people through the sport who were his teammates, opponents, fellow umpires and other friends of the game. His playing was always gratifying to him, but the opportunity to coach a group of young men, many of whom were sons of his teammates, from 2003 to 2008 was the most gratifying time.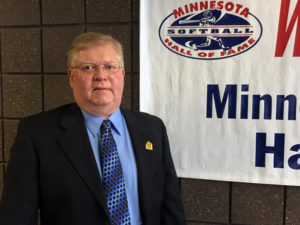 Jim Prestholdt
Player/Manager/Promoter/Sponsor, Dawson Area
In 1963 at the early age of 7, Jim Prestholdt began his duties as a bat boy for Cerro Gordo, the local fastpitch team from Dawson. Jim took to the game in a hurry, and started playing himself at 13. Jim would play wherever his team needed him to in the early years, but he always wanted to "toe the rubber." He honed his pitching skills and continued to play for Cerro Gordo, and later a Master's – 40 team before retiring from fastpitch at the age of 52.
During his career as a fastpitch pitcher, Jim won more than 450 games, and would go on to win many more while pitching in Master's competition. In 1981, Jim hurled two perfect games against Wild's Place from Twin Brooks, SD and against a Brainerd team which had not lost in two years. Jim finished that season with a 25-3 record, while the team finished 42-10. When Jim retired in 2008, he had compiled a lifetime batting average of .371. He was mostly a line-drive hitter, but could flash power when he needed to, hitting a career-high 24 home runs in 1990.
In 1994, Jim's Masters team finished 9th in the national tournament in Minot, ND. There were also many second and third place finishes in state Masters competition, to go along with a Masters state championship in 1999.
Aside from his playing career, Jim was instrumental in managing and sponsoring the Cerro Gordo fastpitch team, which he still does today. Jim's father, Rudy, who was a member of the first Hall of Fame Class back in 1982, founded the Cerro Gordo team in 1939, and with Jim's guidance, Cerro Gordo has become one of the longest running softball teams in the nation! As a sponsor for softball, Jim started a four-team league in Dawson, and also organized teams and leagues across West-Central Minnesota on his own time and at his own expense. Jim also raised $20,000 in a week for a new concessions stand at Prestholdt Fields in Dawson. As a result of his renovation efforts, the City of Dawson would go on to host two junior tournaments, a district tournament, and the 1999 MN Masters State Tournament, primarily because of Jim's constant promoting. Jim would also volunteer his time coaching and mentoring many local players, particularly pitchers, to help pass the game on to future generations.
---
Bud Ramsey
Player/Manager/Promoter/Sponsor, Dawson Area
Defense first. That was the mindset of the Westrum's softball team out of Minneapolis, and Bud Ramsey was one of the defensive focal points on the team. He would often line up in short center between shortstop and second base, but played as though he were a 5th infielder. He would later convert to playing third base. Bud played for Westrum's throughout the 1960's and '70's for Westrum's, and when he started, he was the youngest player on the established Metro-area teams.
Bud was no slouch at the plate either. Nominator Dave Nelson said "I still remember vividly his uncanny ability, when he needed, to hit to the opposite field over the first baseman's head and down the line, even when everyone on the field knew that's what he was going to do. The other team couldn't 'cheat' enough to take that kind of hit away from him. It left you scratching your head and saying 'How does he do that??'" His dominant hitting at a 16-inch tournament in Sheboygan in 1969, where Bud went 10 for 10 at the plate, led to Bud being named the All-World Third Baseman that year.
Bud loved the game, but also took the game seriously and professionally. He was quick to forgive teammates for a physical error like a dropped ball or striking out, but mental mistakes would be a quick ticket out if it wasn't corrected. He always looked forward to playing on Friday nights at Parade Stadium, and during one game that was rained out, Bud refused to leave the park; he just sat in his car dreaming of being out on the field.
Bud's team won the Over 35 State Championship in 1982, and regularly went to World tournaments in both the 12" and 16" classes. He was one of the more successful players in the early days of slow pitch softball.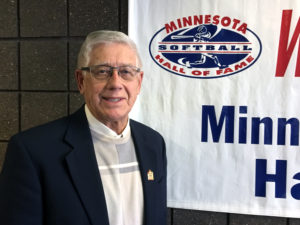 Norm Setnicker
Player/Coach/Umpire, Roseville/White Bear Lake/Biwabik
Norm Setnicker was born in Biwabik, MN, a small town on the Iron Range where everybody knows your name. Norm has spent the last 55 years as softball player, manager, coach, fastpitch umpire, and softball consultant at the state, local and national levels.
Growing up on the Range, Norm was an All Star catcher, playing fastpitch from 1960-63 for Uncle Jim's bar team. His switch-hitting abilities and strong arm defensively stood out to everyone, especially following his move to shortstop.
When the Minnesota State High School League commissioned softball as a high school sport in the 1975-76 school year, "Stormin' Norman" was appointed as the head coach at Tartan High School. After teaching for 34 years at Tartan High School, Norm retired in 1997. During his coaching tenure, Tartan advanced to the State Tournament in 1978, finishing as the runner up to Cambridge. The team also won three Suburban Conference titles in 1978, '82, and '84. Norm was twice named "Coach of the Year" for the Suburban Conference, and was inducted into the Minnesota High School Coaches Hall of Fame in 2008.
When Norm retired from coaching, he registered as a fast pitch umpire, and has continued to umpire high school softball to this day. Norm is also the Deputy Commissioner for the Roseville Senior Softball league. Between his coaching, umpiring, and administrative experience, Norm has been involved in various levels of softball in Minnesota for almost 40 years.
Norm has played, and continues to play slow pitch softball in Roseville, where he has played for the past 20 years. In 2014, Mary Ann, Norm's wife, surprised him with an invitation to the Minnesota Twins Fantasy camp, where Norm was awarded a Defensive MVP award for players over age 55 by the Twins coaching staff. Norm was 73 at the time, and was given the ultimate compliment by Bert Blyleven, who told "Norm, you play the game the way it should be played." Norm's love of the game in all aspects has truly made him a standout in the Minnesota Softball community.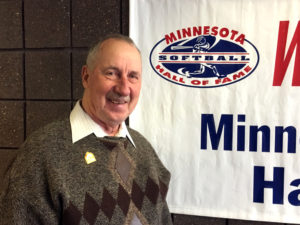 Leo "Butch" Tauber
Player, Sauk Rapids
Leo "Butch" Tauber's softball career began later than many of our inductees tonight. He grew up on a dairy farm, which limited his ability to get involved in high school sports, but at the age of 16, Butch's father cleared part of a field so he could play softball, and how lucky for all of us that he did. Butch was quick to stand out among his competitors as an imposing pitcher; his pinpoint command of the strike zone left opposing batters befuddled. Two years of military service saw Butch establish himself as the ace of the Army Fast Pitch team based out of Missouri, before returning to Central Minnesota and continue to dominate.
Butch was also a force to be reckoned with at the plate. Working on the farm made him a strong hitter at the plate, and Butch's ability to drive the ball over the fence was truly his calling card. His career batting average was north of .500, and he hit more than 1000 home runs, even driving them over 300 foot fences at the age of 60! He had multiple seasons of more than 100 home runs, several with more than 80 home runs, and during one weekend softball tournament in Foreston, MN, Butch managed to hit 22 home runs over the course of the weekend!
After returning from his military service, Butch returned to Sauk Rapids, where he continued to play at a high level until 2009. Butch was a starting outfielder for 50 years, competing on open class, 35+ and 50+ softball teams, and found success at the state tournaments for each of those levels. Butch's love for the game and high level of play set a standard of excellence across Central Minnesota.
Nominator Gary McCarney recalled fondly his times playing against Butch, saying: "I played against Butch for about four decades, until I joined the 50+ men's team he played [on]. He was one of the toughest outs in softball, and was even harder to get out with runners in scoring position. Butch got many big hits, home runs, and runs-batted-in against the teams I played on, coached, or managed. We did not look forward to seeing him step into the batter's box, especially with men on base." It's safe to say, after these years, Gary much prefers being Butch's teammate instead of lining up against him.